How grocers can leverage personalization
Get great content like this right in your inbox.
Subscribe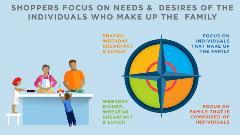 With consumers shifting their shopping patterns and preferences based on evolving dietary habits, retailers have various opportunities to capitalize on the personalization aspect of the grocery retail experience.
According to the Food Marketing Institute (FMI), a management consulting company, shoppers aren't asking for differentiated treatment. They just want the shopping experience to be made easier by having it offer the flexibility they need to meet the constant shift in demands desired by their families. Familial consideration during grocery shopping is currently at an all-time high, with FMI reporting that the desire for social cohesion and parental goals for cultivating healthy food habits is putting hard limits on extreme eating personalization. 
FMI recently sponsored a webinar titled Personalization in Grocery Retail. It was hosted by Steve Markeson, director of research, Food Marketing Institute; David Fikes, vice president communications and consumer/community affairs, Food Marketing Institute; and Stas Shectman, director of strategic insights, The Hartman Group. According to the webinar, shoppers are not asking to have everything personalized. In fact, they are unwilling to relinquish control of the shopping experience aspect in which they can personalize their needs according to their familial demands. 
"They (consumers) want to remain in control of their own shopping carts, even if they want someone else ringing it up for them. Shoppers want help, but that help needs to empower them and their decisions," Fikes says. "They see themselves as responsible and in control of the family food decision."
Then what do consumers really want? According to FMI, consumers want convenience through technology. According to the company's research, 81% of consumers expressed some willingness to share personal information to help the store become more familiar with their shopping needs. In-store technology use, such as apps downloadable through the customer's personal cell phones or QR code scanning capabilities, allow consumers to have a personalized shopping experience without feeling as if they have to give up their control. 
To read the presentation from the webinar, click here.