Healthy outlook for vitamins, supplements
Get great content like this right in your inbox.
Subscribe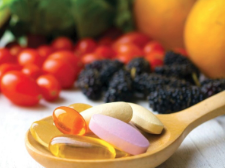 Sometimes it's not easy to stay healthy, and get all the nutrients we need in the food and beverages we consume. So more than half of Americans take multivitamins and at least one vitamin supplement, according to a 2017 Journal of Nutrition study. Roughly 29 percent of older adults (over 65) take four or more supplements a day, a recent Gallop poll revealed. 
Market research firm IRI says 2018 is a bonus year for store brand vitamins and supplements, mainly because of the surging trends in health and wellness. Dollar sales and unit sales of both private and name brand vitamins are up in the 52 weeks ending June 17, but private brand dollar sales outpaced last year's sales for the same period by 6.6 percent, while all brands were up only 3.9 percent. IRI says dollar sales climbed 2.9 percent for all supplement brands and 5.2 percent for private brands.
"Private brands continue moving away from being a low-price option. Now they're more targeted and unique, with more custom formulations and distinctive products than ever before," says Brianne Vaskovardzic, director of marketing for Oklahoma City-based Norax Supplements, a private brand manufacturer. "The focus for supplements is on emerging ingredients, but there is also a significant opportunity in existing categories such as sports nutrition, probiotics, meal replacement and weight loss." 
There are challenges, however, for vitamins and supplements overall. Market researcher Mintel says consumers continue to struggle with trust, costs and the shopping experience associated with vitamins and supplements.
"To best position vitamins and supplements, category players should emphasize natural qualities, transparency and online sales to drive growth," explains Jana Vyleta, Mintel's health and personal care analyst. Private brands should highlight the role vitamins and supplements play in a healthy lifestyle, and widen their natural and organic offerings to maximize their advantages, Vyleta recommends.
Patricia Jones, general manager of sales for Miami Lakes, Fla.-based Mason Vitamins, says listening to customers and researching retail data are critical for success.
"Capturing web search data enables the retailer to determine the optimal mix of branded and private label products," Jones notes. "Many top store brand retailers also invest in marketing, merchandising and analytics to further drive sales, but overall engagement in these activities varies widely. Many retailers use their websites to drum up online engagement, and often incorporate unique sections on their sites to promote their private brand and engage consumers."
In some cases, retailers also merchandise private brands as premium, investing marketing dollars or positioning them as value/substitute brands by pricing them below national brands, Jones says.
Condition-specific products are trending, Jones says, noting products geared toward women that promote beauty from within, relieve menopause symptoms, strengthen bones as well as products that meet top health challenges, specifically diet.
Turmeric and coconut oil supplements and their many therapeutic applications are also finding their way into private brand selections she adds. 
Special formulations can help store brand vitamins and supplements stand out.
"Store brands can also build on opportunities by providing a diverse product line," Vaskovardzic says. "Core vitamins and minerals will remain consistent sellers, yet yield lower margins, while trending ingredients allow for premium pricing, but [will be] affected by the market environment, and therefore, be subject to more volatility. A larger product portfolio can help build both brand loyalty and profitability. Store brands also must stay on top of the latest trends." 
But whether brand owners alter an existing formulation or develop an entirely new product, customizing the brand is "extremely important"
to reach new customers and to build brand loyalty, Vaskovardzic says.
Educating consumers on health, diet and wellness is more important than ever, sources say. 
"Exhibit the category as a vitamin and supplement resource by offering consumers a [current] trending assortment with a knowledgeable staff and in-store education materials," Jones advises retailers. "If vitamins and supplements are not merchandised and promoted properly, consumers may overlook them in grocery."
Own brand retailers should also consider the demographics before vitamins or supplements are developed, because such products can be influenced by personalization, popular diets and gender- and age-specific criteria. 
"Personalized nutrition is key in the immune health category because consumers select products based on specific need states," says John Quilter, vice president and general manager of Kerry Functional Ingredients & Actives in Mayfield Heights, Ohio, which produces immune health and probiotic ingredients. 
"Products should target different groups [seniors, moms, athletes, etc.] in ways that clearly speak to the health benefits [claimed], using on-pack messaging that resonates," Quilter adds. 
Some supplements such as exogenous ketone and beta-hydroxybutyrate (BHB) are being developed to coordinate with the highly profitable keto diet market, Vaskovardzic says.
"Digestive support products, turmeric supplements, multi-vitamins (because multivitamins are easily customizable to multiple markets) and core vitamins and minerals will also see steady growth," he says.
Store brand packaging should entice shoppers with easy-to-use accessible structures.
"Convenience remains the king," notes Robert Tupta, a project manager at Mold-Rite Plastics in Twinsburg, Ohio. "The older population wants easy-open-and-close packaging, with dispensing features like a flip top. Millennials want packaging to fit their busy lifestyles that is easy to hold and grip. They also demand transparency in labeling and information verifying product efficacy." 
Tupta doesn't see many flexible pouches in this market, but says they could work with the new gummy products, which are typically larger than pills or capsules.
Marny Bielefeldt, vice president of marketing at St. Louis-based Alpha Packaging, agrees.
"Gummies and chews tend to clump together during the filling process," Bielefeldt adds. "Wider 63-millimeter openings can dramatically increase filling speeds and efficiencies."
Appealing graphics give store brands an edge, Tupta says.
"Bold colors, labels and packaging easily distinguish condition-specific treatment options and simple, cleaner packaging identifies a store brand, which is becoming critical," he adds. "Improvements in manufacturing processes and digital printing are helping to accomplish this. More colors, package shapes, custom designs and decorating are appearing on store shelves."