02/08/2019
Haagen-Dazs gets boozy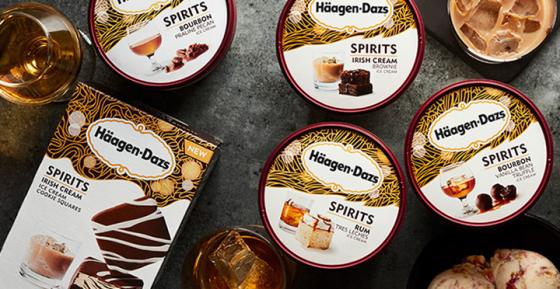 Haagen-Dazs is breaking out the booze and putting it in a new line of seven alcohol-infused ice cream treats.
The brand, produced in the U.S. by Nestle subsidiary Dreyer's, says that it will roll out the line in grocery stores nationwide in April. However, customers can sample the boozy ice cream in select Haagen-Dazs stores beginning in March.
The collection includes five new flavors of ice cream: Stout Chocolate Pretzel Crunch, Bourbon Vanilla Bean Truffle, Irish Cream Brownie, Bourbon Praline Pecan and Rum Tres Leches. Pints also include a cookie treat, Irish Cream Cookie Squares, as well as a non-dairy option, flavored Amaretto Black Cherry Almond Toffee.
Each product contains less than 0.5 percent alcohol per volume.