Give them a choice
Get great content like this right in your inbox.
Subscribe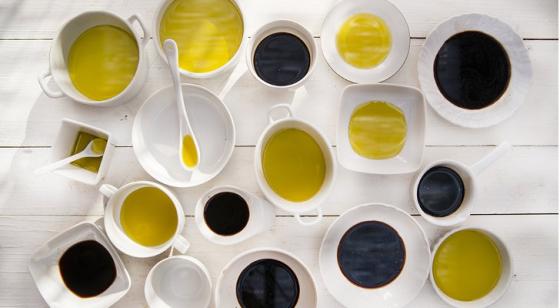 Oils and vinegars continue to grow in popularity, and many retailers boast multiple own-brand tiers in this segment. But they've recently run into a couple of sourcing snags, at least on the olive oil side.
Olive oil product shortages — attributed to a wet summer and the resulting prevalence of fungus affecting olive trees in Italy and Spain — contributed to an average unit price increase of 6 percent in 2015, leading to a 3 percent volume decline, reports Euromonitor International, a London-based market research firm, in its October 2015 "Oils and Fats in the US" report.
The shortage is causing many producers that traditionally source their products from Italy and Spain to seek out other olive-producing regions such as Greece, Euromonitor notes.
In addition, allegations that some producers are mislabeling products — including designating some items as extra virgin olive oil when the selections do not meet the international standards for such a classification and misstating the countries of origin — threaten to alienate shoppers and further impede sales.
While retailers have little control over the ramifications of such incidents, most still have the capacity to boost their private label oil and vinegar activity.
Market a range of options
Potentially potent tactics include offering a cross-section of store brands to meet the needs of the wide range of consumer segments — including customers who shop by price and those who seek premium products.
"People are more educated about quality and are not just looking to buy at the low end," says Agron Kosova, manager of Fine Italian Food, a Naperville, Ill.-based supplier of oils and vinegars. "There is room to offer store brands in various tiers with low-, medium-and higher-quality items, which will generate more business."
Such options should include natural and organic items, adds Kaylee Mikolon, key accounting and marketing manager for Modena Fine Foods Inc., a Clifton, N.J.-based provider of balsamic vinegars and glazes.
Indeed, to better attract the growing base of health-oriented shoppers, retailers must offer relevant products while also spotlighting the selections with messaging on labels or neck tags, she states. Such products include selections that are gluten-free, non-GMO and low in carbohydrates and sugar.
Merchandising vehicles also could include shelf-strips and signage that list a product's country or region of origin, notes Casey Smith, marketing manager for Pompeian Inc., a Baltimore-based supplier of olive oil and vinegar.
Attaching geographic data to products can be particularly effective if the growing region has a reputation for producing top-quality selections.
"Consumers are more trusting and confident when they know who is developing the item and the history behind it," Smith states.
Differentiate via packaging
Product differentiation, meanwhile, can extend beyond geography. Packaging also is a powerful way to make private brand selections stand out from the national brands. Retailers could distinguish the various quality levels by package size, shape and materials.
"Retailers that offer higher-quality products have to move away from a standard-looking bottle," Smith says. "It will be hard for consumers to pay a higher price for products that do not have a higher-quality appearance."
Unique bottle shapes, as well as colors, can call attention to specific store brands, adds Salvatore Russo-Tiesi, managing director of Bono USA Inc., a Fairfield, N.J.-based producer of extra virgin olive oil.
"Many people buy with their eyes, so anything besides a classic square design will stand out," he says. "Labels also need to contain the ingredients that make the product different, with the most important elements listed on top in boldface."
Such messaging might indicate that an olive oil is a 100 percent Sicilian product and is certified organic, Russo-Tiesi adds.
More suppliers, meanwhile, are offering PET bottles for olive oil in addition to glass containers, says Mark Coleman, senior vice president, retail division, for Catania-Spagna Corp., an Ayer, Mass.- based processor and packer of vegetable, olive and blended oils.
Plastic bottles cost less to produce and ship than the traditional glass bottles and sustain less breakage, he notes.
Address the comparison shopper
Pricing strategies, meanwhile, should be in accordance with the dynamics of each product sector. Store brand vegetable oils, for instance, typically should cost less than the national brands as the category is purely price-driven, Coleman says.
But it is important that such store brands have attributes similar to those of the national brands, he adds. That includes using comparable packaging, ensuring that the store brand product claims equal or exceed those of the national brands, and situating store brand and national brands together on shelves.
"It is necessary for customers to be able to perform apple-to-apple comparisons with the store and national brands," Russo-Tiesi says.
Such comparisons also should involve upper-tier products, particularly because many olive oil customers are willing to pay more for greater quality, Coleman adds.
"Olive oils should be flavor- and quality-driven, as there are very powerful polyphenols and rich flavors associated with extra virgin olive oil when it is harvested and bottled the proper way," he states. "When chasing a price becomes the priority, the end result is a consumer who is not receiving the quality product that they should."
Get the word out
To help promote their private brand selections, retailers could conduct in-store samplings that also demonstrate product applications — for example, demoing olive oil with different types of breads.
"Retailers have to get their store brands in consumers' mouths," Russo-Tiesi states. "It can be done through traditional advertising and couponing, but demos are the best way to convince customers to try the product."
Cross-merchandising oils and vinegars in different store departments also will enhance awareness, Mikolon notes, adding that the store brand items should be the most visible and recognizable bottles on display. Retailers could offer olive oil with freshly baked breads in the bakery, for instance.
Retailers could further attract attention to store brands by consistently expanding the product lines and increasing facings on shelves, she adds. That includes offering more wholesome selections such as products with organic and non-GMO attributes; these items especially appeal to the large base of wellness-conscious millennial shoppers.
"The industry will need to adapt to consumers' needs and desires by offering more genuine items without additives or fillers and having certification logos indicating the health elements on labels," Mikolon adds. "There also will be more demand for packaging that is made of recycled materials."
Do offer a wide variety of own-brand oils and vinegars.
Don't make it difficult for shoppers to make store brand/national brand comparisons.
Do cross-merchandise store brand oils and vinegars with products in other store departments.
Don't neglect consumers who are looking for organic and non-GMO attributes.