GIANT Foods has a new delivery strategy
Get great content like this right in your inbox.
Subscribe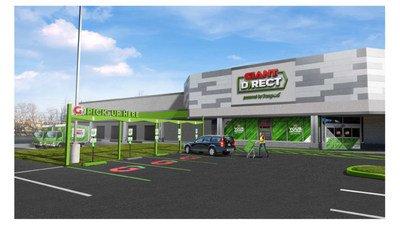 GIANT Foods is kicking it up a notch when it comes to grocery fulfillment.
The Carlisle, Penn.-based grocer announced the addition of GIANT DIRECT, Powered by Peapod, to the GIANT Foods brand.
In partnership with Peapod Digital Labs, GIANT DIRECT, Powered by Peapod will bring a pickup option to Peapod fulfillment centers, where online orders will be delivered directly to customer vehicles that have pulled up outside. A new 38,000 sq. ft. hub will add approximately 150 jobs to the local economy.
"We are excited to make Lancaster the home of our newest innovation with the launch of our new GIANT DIRECT, Powered by Peapod-commerce hub," said Nicholas Bertram, president, GIANT Food Stores. "Not only is the e-commerce hub a completely new concept for us and a first of its kind in our area," Bertram continued,"it's the product of a fruitful collaboration with Lancaster Mayor Danene Sorace and local residents to give the Lancaster community the shopping experience they want and need."
The new program will debut in the city of Lancaster, as part of a $22 million investment that was first announced by the company in June 2018.
The hub will be located at 235 North Reservoir Street, and will open on Feb. 12.