Flavors 'planted' in fruits, veggies
Get great content like this right in your inbox.
Subscribe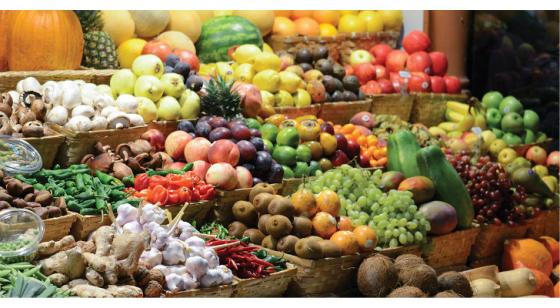 Consumers' collective health kick — their desire for more natural and free-from ingredients — is driving current flavor and ingredient trends.
"Across food groups, we're seeing flavor and ingredient profiles driven toward health and wellness innovations," says Jean Shieh, marketing manager for Turlock, Calif.-based Sensient Natural Ingredients.
Retailers and manufacturers of private brands should take note that vegetables and fruits are at the forefront of these flavors and ingredients, appearing in everything from, literally, soups to nuts, Shieh notes.
"I feel like 2017 is less about reducing or adding [something to your diet]," she adds. "It's more about going back to natural ingredients, like vegetables and fruits. But you don't have to get them from the actual source. You can have them in your drinks and snacks."
Kale has made its mark as a vegetable flavor the past few years, appearing as a powder in chips and crackers and as an ingredient in frozen foods and other fare. But Shieh says that more familiar vegetables such as tomatoes, broccoli, spinach, beets and carrots are showing up as ingredients and flavors in myriad foods, including snack chips.
"The selling point is that they are made from real vegetables," Shieh says, noting that another differentiation factor is the chips' colors come from the vegetables, not an added coloring agent.
Consumers like the signature and earthy flavors of chips manufactured from root vegetables like beets and carrots, Shieh says.
"Consumers are willing to give vegetables that have more of an earthy and bitter taste a try as long as they are paired well with other ingredients and the overall flavor complexity delivers a good experience," Shieh says.
More vegetable flavors are also appearing in beverages as flavors and ingredients. Aloe vera is one that is also being combined with various fruits in some concoctions. Some of the drinks contain bits of aloe vera and fruit.
Among fruits, mango continues to be a popular option, especially as an ingredient and flavor to offset the heat associated with spicy foods, Shieh says. Peach is also gaining popularity as it pairs well with spicy foods, she adds.
"Our culinary team recently developed a habanero peach yogurt combination that turned out quite well," Shieh notes. "The sweetness from the peach is complimentary to the heat and slight fruitiness of habanero."
Global connections
Kim Cornelius, a senior food scientist for St. Francis, Wis.-based Wixon, which develops and manufactures spices and seasonings, says more American consumers are discovering "the world of cuisines," thanks to a record number of people traveling overseas in 2016 and surfing the Internet, where they are learning more about exotic flavors.
"Their food interests have become more adventurous," Cornelius says. "They are willing to try more unique flavors, flavor combinations, cuisines and food mash-ups. Ethnic foods such as Moroccan, Philippine, Indian and Middle Eastern bring new spice and seasoning ingredients to the consumer table."
In its 2017 Flavor Forecast, McCormick cites "the new Mediterranean cuisine of the 21st Century" as a trend. McCormick states that barberries, a tart-tasting red dried fruit, can be used to liven up sweet and savory dishes. McCormick also highlights baharat seasoning in its forecast, calling it an "indispensable, flagrant blend."
AnnMarie Kraszewski, Wixon's R&D lab manager, says that "heat" is popular with consumers and notes that spices and seasonings are the perfect delivery system for it.
"But the flavor that surrounds the heat is also important," Kraszewski adds. "Consumers today are looking for more complex heat with characterizing flavor. Using a balance of spices, acids, sugar, salt and flavor modifiers enable the food scientist to create seasonings with depth."
McCormick states in its forecast that pepper is "finally capturing the spotlight" and offers the next wave of spicy flavor, especially when combined with fruits. "Exotic tropical fruits like dragon fruit, mangosteen, green mango and jackfruit accent the citrus notes of pepper, delivering the perfect sweet heat combination," McCormick states.
Smoke is another flavor that's gaining popularity in food and beverage, Shieh says. Sensient recently rolled out a line of smoked vegetables to satisfy customers who want vegetables combined with savory flavors.
"Smoked vegetables can be marketed as charred, burned or roasted," she adds.
Coconut has been trending the past few years and will continue to trend, according to Whole Foods Markets' top food trends.
"Move over coconut oil and coconut water — coconut flour tortillas, coconut sugar aminos (sauces) and more unexpected coconut-based products are on the rise," Austin, Texas-based Whole Foods states. "Virtually every component of this versatile fruit-nut-seed (coconuts qualify for all three) is being used in new applications. The sap is turned into coconut sugar as an alternative to refined sweeteners; the oil is used in a growing list of natural beauty products; and the white flesh of the coconut is now in flours, tortillas, chips, ice creams, butters and more."
Whole Foods also cites Japanese food and flavors as trending. "Long-celebrated condiments with roots in Japanese cuisine, like ponzu, miso, mirin, sesame oil and plum vinegar are making their way from restaurant menus to mainstream American pantries," according to Whole Foods. "Seaweed is a rising star as shoppers seek more varieties of the savory greens."
While older popular flavors are not falling out of favor, they are morphing into something different, Shieh says. Consider salt, always a popular ingredient, but a changing one. Sea salt has been popular for several years but has now morphed into smoked salt, which is gaining popularity, she adds.
Millennials, iGens making impact
Millennials' use of social media has had a profound impact on flavor and ingredient trends, Shieh says. Someone can post a recipe on Instagram featuring a trendy taste and the next you thing it goes viral, Shieh adds.
The iGeneration, made up of individuals aged 13 to 19, is also bringing its flavor and ingredient perspective to social media.
"Hot and spicy food is really popular with the iGeneration," Shieh says. "They are constantly daring each other to try different things." 
Aylward, the editor in chief of Store Brands, can be reached at [email protected]