Feel-good indulgences
Get great content like this right in your inbox.
Subscribe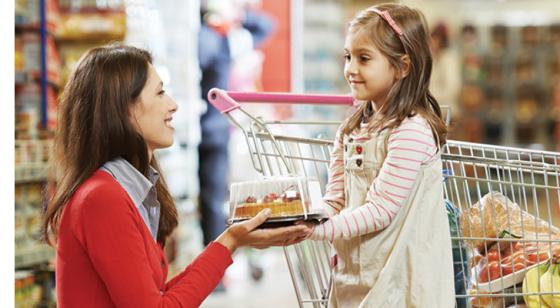 Desserts are an indulgence, yet consumers still expect certain things from their treats — that they be worth the indulgence and that unhealthful attributes be minimized in their formulations.
Millennials are leading the charge on food trends, and buyers are taking notice, says Rebecca Velázquez, client relations executive for Crêapan USA in Chicago.
"Millennials crave and demand an all-around eating experience, including innovative and unique recipes, as well as interesting flavors and ingredients," Velázquez says. Consumers are also calling for minimally processed packaged goods and are actively avoiding certain controversial ingredients, Velázquez adds. "It's incumbent upon manufacturers to create or reformulate recipes with simple, cleaner ingredients without compromising flavor and quality in order to remain competitive and to capitalize on this rapidly growing better-for-you [trend]," she says.
Private brand cakes and pies, excluding snack sizes, comprise the bulk of the category's market share at 72 percent, according to Chicago-based market information provider IRI.
Considered an affordable indulgence during the economic recession, retail sales of prepared cakes and pies grew 23 percent between 2010 and 2015, when sales reached $11.6 billion, according to global market research firm Mintel, as reported in "Prepared Cakes and Pies, U.S." from May of last year.
Still, consumers remain concerned about their health and weight management, Mintel notes.
The report found that nearly 40 percent of consumers from the millennial generation or younger eat prepared cakes and pies to boost their moods.
Mintel also reports that a quarter of women age 18 to 34 expressed feeling guilty for eating these desserts. The firm advises offering single-serve packaging, mini or bite-sized options and using healthier sweeteners and other ingredients to assuage those negative feelings and help consumers control their consumption of these treats.
A 2016 internet survey of 1,381 adults, conducted with Lightspeed GMI, found that 38 percent would consider purchasing or purchasing more of ready-to-eat, baked-in-store cakes or pies if they were offered free samples. Thirty-one percent would be favorably influenced by the availability of individual portion sizes and 22 percent by baked goods made with alternative sweeteners.
Wholesome innovation
More than ever before, retailers are asking for baked goods and desserts with clean labels, says Matt Cobb, national sales manager for Sylmar, Calif.-based Fantasy Cookie Co.
"For the most part, gone are the days of selling [products with] artificial colors, preservatives and flavors," he explains. "Many retailers are also looking for non-GMO products and some are even looking for organic. They really value the healthier-for-you movement, as that's what consumers want nowadays."
A privately held company, Fantasy Cookie specializes in better-for-you natural and organic baked products such as cookies, baked bars, fruit filled bars and inclusions. The company sweetens some products with fruit juice and does not use any hydrogenated oils in its baked goods, Cobb says.
Consumers also want innovation in their bakery products, something "new and exciting," says Jan Marien, a partner in Dallas-based BellEATalia, which represents Italian bakery manufacturers to the U.S. market.
American consumers are more accepting of international bakery products than they were a decade ago, Marien says. "It was always a no-brainer that bakery products be high quality and [available] for a good price," he says. "But now consumers want better-for-you products, such as multi-grain and organic."
Consumers also want clean labels, so manufacturers must move away from preservatives and use packaging instead to extend product shelf life, Marien adds. Packaging such as take-and-bake sealed plastics bags and clamshells that extend shelf life without adding artificial preservatives is essential to growing the category, he says.
BellEATalia's clamshell packaged cookies boast a six-month shelf life, Marien says.
It's important to be mindful of extended shelf-life packaging's effect on the environment as well, Cobb says. Choosing the right ingredients also contributes to extending shelf life. "We are continually looking for new natural ingredients to achieve longer shelf life while still maintaining the product without preservatives," he adds.
Functionality and convenience
The most prominent trend in the category, says Cobb, is "protein, protein, protein."
Thin and crispy goodies are also a very hot trend that seems to go hand-in-hand with on-the-go snacking, Cobb observes.
"Millennials want convenience for their busy lifestyles, but they also want healthy, functional food," he says. "Functional bars are extremely popular and have seen huge growth in the category. Millennials are also very big on substituting at least one, and sometimes more, meals a day with a functional baked bar."
While added protein has the greatest potential for growth, gluten-free formulations continue to be popular, Cobb adds.
Fresh foods, which consumers view as healthful, continue to be in demand, Velázquez says. Fresh food sales have steadily increased, while retailers have seen stagnant growth in the freezer section the past few years, she notes.
In response to this trend, Crêapan is introducing its fresh line of fully cooked crepes and pancakes, which the company has been selling internationally for 20-plus years to U.S. consumers, according to Velázquez.
All natural and organic brands of prepared cakes and pies could attract consumers shopping for their families, Mintel asserts. Millennial consumers, the report continues, are much more likely than other groups to feel that prepared cakes and pies have too many preservatives, and they express a willingness to pay more for gourmet and premium products.
"Millennials are really interested in what they eat," Marien says. "They look at the label, they notice if [the product contains] a 'superfood,' like chia, spelt flour or ancient grains. They are very conscious about what they eat. They are more aware of what is good for them, especially the parents." SB
Cvetan is a freelance writer from Barrington, Ill.