01/09/2019
Favored flavors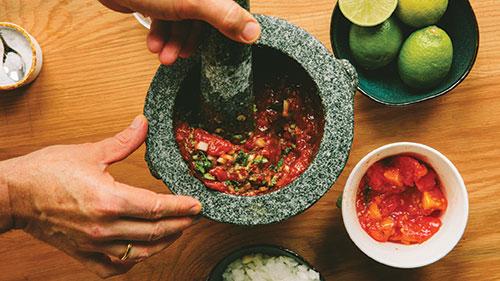 What do a food truck and a kumquat have in common? They both represent the blend of trends influencing flavors in retailers' fresh-prepared and fresh food departments. 
"We're seeing an accumulation and a combination of multiple trends happening together," notes flavor and fragrance consultant Amy Marks-McGee, owner of New York City-based Trendincite.
Interest in multicultural cuisine delivered in a convenient format, a penchant for personalized better-for-you products, and cross-category as well as seasonal inspirations for new offerings count among the developments that gained momentum this year and will further ascend in 2019.
Grocery retailers should survey the landscape of specialty quick-service restaurants for ideas as to what to embrace next year, Marks-McGee suggests, noting that Indian street food has taken off in a number of urban markets, Hawaiian poke bowls are particularly popular right now, and Filipino cuisine is an emerging passion among foodies.
"Supermarket and grocery trends lag somewhat behind restaurant trends but typically follow what's happening in restaurants," agrees food industry consultant Maeve Webster, the president of Arlington, Vt.-based Menu Matters. Her predictions for growth opportunities in 2019 include vegan fare and ever more exotic flavors from the Middle East, Africa and Asia.
"The biggest trend is plant-forward or plant-based innovations, which are pushing a variety of fruits and vegetables to the forefront," Webster says. "Part of this is the innovative use of preparation techniques typically reserved for meat." Applied to produce such as jackfruit, which mimics the texture of pulled pork, these techniques expand the appeal of plant-based dishes, "moving them out of the vegetarian or vegan realms and into the mass market," she adds.
Spice blends will continue to be a huge trend in 2019, Webster emphasizes. She expects to see rising interest in dukkah, an Egyptian condiment made of nuts, herbs and spices and used as a dip; za'atar, a Middle Eastern blend of sumac, sesame seeds and herbs that is mixed with olive oil for a dip or sprinkled on various dishes as a garnish; and berbere, an Ethiopian spice mixture that commonly includes chili peppers, garlic, ginger, basil, korarima, radhuni, nigella and fenugreek. Harissa, a hot chili pepper paste used in Tunisian cuisine, will also gain traction, as will ras el hanout, a North African spice blend; Chinese five spice powder; and togarashi, a Japanese spice mixture containing seven ingredients.
"These blends are flexible and broadly applicable," Webster explains. 
According to market researcher Mintel's "International Food Trends U.S." report issued in 2018, demand for Middle Eastern flavors and ingredients, in particular, continues to rise rapidly. For example, dates as an ingredient grew 19 percent between 2015 and 2017, while pistachios as an ingredient increased 15 percent during that period. Mint, moreover, climbed 48 percent as a non-alcoholic beverage ingredient. 
Furthermore, chefs in recent years have been showcasing lesser-known fresh fruits and vegetables, from prickly pear cactus fruit to Calabrian chili peppers, which means that these items are starting to command attention in supermarket produce departments. Often color, as well as flavor and nutrient density, drives the selection of exotic produce.
A citrus fruit native to South Asia, kumquats are having a moment on U.S. restaurant menus, with a four-year growth rate of 65 percent in the casual dining sector, according to market research firm Datassential. Bright orange in color and approximately the size of a large olive, kumquats are tarter than oranges and sweeter than lemons or limes, points out the United Fresh Produce Association in the Summer 2018 issue of "Fresh Insights for Foodservice." Kumquats can be eaten whole, including the seeds and thin skin, which are sweeter than the rest of the fruit.
"Kumquats present an opportunity to add a fresh bright flavor and a pop of color to winter menus," recommends United Fresh in its foodservice newsletter. "Fresh kumquats can be sliced up for salads or used as cocktail garnishes. They can additionally be showcased atop fish or on-trend toasts or featured with yogurt in parfaits or breakfast bowls."
With jackfruit appearing on more and more restaurant menus, whole jackfruits are currently be sold in retail chains as diverse as Austin, Texas-based Whole Foods Market and Bentonville, Ark.-based Walmart. Marks-McGee has noticed that dragon fruit, or pitaya, has also become more mainstream, making its way from Asian specialty grocers to conventional U.S. supermarkets. 
Wellness, adventure, nostalgia
American consumers have increasingly eclectic tastes, but they also are becoming more discriminating, with millennials leading the way in avoiding artificial flavors, colors and preservatives and choosing lower-sodium and lower-sugar options. Indeed, the use of strongly flavored natural ingredients and spices serves as an alternative to excessive salt and sugar.   
"Across categories, the top areas of focus continue to be clean label, premiumization, and health and wellness," observes Julie Laughter, market manager for FONA International, a flavor development company based in Geneva, Ill. "For consumers, clean label means 'healthy.' " As she notes, the clean label movement's influence on flavor can be measured by the surge of interest in natural, non-GMO and organic products.
Besides the rage for better-for-you SKUs, FONA has identified three major trends affecting flavor choices in supermarkets. "The big flavor trends I'm seeing impacting multiple segments are hot and spicy, cross-category influences and bringing back nostalgic flavors," Laughter says.
Consequently, retailers might want to consider offering meatloaf and macaroni and cheese in their grocerant hot bars, while also serving chicken tikka masala and Korean barbecue. 
At Amherst, N.Y.-based Tops Friendly Markets, newly popular flavors coexist with old favorites and cross-category seasoning trends abound. "Our prepared foods area is seeing growth in multicultural flavors like Spanish, Mexican and Caribbean; however, Buffalo wing is still a staple for us," shares Karri Zwirlein, the retailer's director of bakery, deli and prepared foods.
In Tops' deli department, flavored cheese has seen significant growth, with garlic-, Buffalo wing- and onion-seasoned varieties becoming popular choices for sandwiches and burgers.
"In prepared foods, we see the popularity of plant-based options being more prominent than any flavor profile," Zwirlein adds. "A cauliflower pizza crust is being offered, and we continue to offer other ways to satisfy customers with special dietary needs and wants."
In Tops' dairy department, for example, plant-based beverages, functional beverages and mango flavors are increasingly prevalent.
Seasonal flavors are also growing in importance in all of Tops' fresh departments. "Our bakery department features flavors of the season all throughout the year, [which are promoted] with a variety of theme ads — blueberry, peanut butter, lemon, chocolate fudge, apple, cinnamon, peach and strawberry," Zwirlein says. 
Seasonal offerings in Tops' dairy department include such creamer flavors as peppermint mocha, almond maple, frosted sugar cookie and pumpkin spice.
Tacos, bowls remain on-trend
Although American interest in Mexican cuisine is not new, food trucks selling more authentic Latin American fare and the availability of alternative ingredients have greatly bolstered demand. Accordingly, made-to-order tacos with an international and wellness twist have taken hold in an increasing number of grocery chains, points out Marks-McGee.  
Taquería by Whole Foods Market — a Mexico City-inspired in-store eatery — debuted in late 2017 and has been rolling out to more of the Amazon-owned chain's locations across the country. As is typical in quick-service restaurants, patrons custom-order their tortillas and fillings, which include sweet potato with red pipian sauce, jackfruit with pineapple al pastor, pork braised in achiote sauce, beef braised with guajillo chili, and chicken marinated in garlic and lime. The toppings range from spicy pickled vegetables to pumpkin seeds.
San Antonio, Texas-headquartered H-E-B, meanwhile, opened its first True Texas Tacos quick-service restaurant this past June inside one of the retailers new 9,000-square-foot convenience stores. The menu focuses on breakfast and specialty Tex-Mex tacos. What's more, Rochester, N.Y.-based Wegmans Food Markets has been working with restaurateur Roberto Santibañez to open made-to-order Mexican cuisine stations at several of its stores, in addition to his serving as culinary director of Wegmans' Blue Dalia restaurant and tequila bar in Natick, Mass.
Another foodservice craze catching on in supermarkets, notes Marks-McGee, is bowl food, whether made to order or available in the refrigerated case in ready-to-eat or heat-and-eat containers. Frequently Asian-inspired, these bowls bring to the forefront many different flavors and ingredients and leverage the contemporary preference for convenience and healthful eating. 
Parsippany, N.J.-based gourmet retailer Kings Food Markets, for one, introduced self-serve Power Bowl bars to a few of its New Jersey stores early this year. Customers build their own bowls of "power foods," drawing from nutritious ingredients such as grain blends, greens, roasted vegetables, and various protein sources including chicken, chickpeas and lentils.  
In addition, bowl recipes and ingredients are increasingly featured in supermarket meal kits, Marks-McGee observes. She notes that West Des Moines, Iowa-based Hy-Vee offers several bowls in its own-brand Mealtime Kits, including Gochujang Glazed Pork Bowls with Brown Rice, Cauliflower & Sweet Potato Curry Bowls with Millet, Chili Garlic Salmon Farro Bowls, and Beef Bulgogi Bowls.  
Such meal kits provide easy access to less-familiar ingredients and spice blends, while bolstering consumers' confidence in their ability to prepare exotic dishes at home. Meal kits, according to Marks-McGee, are also the ideal vehicle for cross-merchandising fresh ingredients with dry ingredients found in the center store.
Schierhorn is a freelance writer from Wheaton, Ill.