Digital activation is the new imperative for store brands
Get great content like this right in your inbox.
Subscribe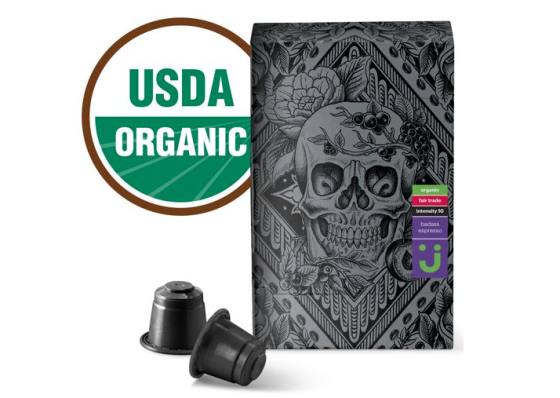 If you go to Jet.com and search for "Uniquely J Badass Espresso," even before you hit "enter" a picture of the package pops into view. It's minimalist in the extreme: a black-and-gray image of a skull that looks a bit like a design by tattoo artist Don Ed Hardy. Next to the thumbnail you see a "USDA Organic" logo, an element that might otherwise have gone directly on the front of the package. Click the thumbnail and you get even more product info: The espresso has 48 reviews and a four-star rating; its $7.72 price has been reduced from $9.65. To the left are four more pics, including one with raw sugar dumped on a table and sculpted into the shape of a skull.
This Walmart-owned brand is an example of the kind of freedom you get as a designer when the online experience does the functional work for you. Inherent in this approach is the recognition that today's younger, digitally savvy consumers are less brand-loyal. That means giving them an experience that goes way beyond the physical shelf — everything from digital and social media content to direct-to-consumer packaging. 
It's time for retailers and designers involved in creating store brands to think harder about, not just the physical space of the store, but also the digital realms in which younger consumers in particular constantly reside.
That's precisely the strategy behind The Kroger Co.'s new cloud-based, AI-driven digital shelf collaboration with Microsoft. Instead of relying on functional packs, it uses long, rectangular screens to digitally display all kinds of product and promotion info. How smart is it? Cameras tell the system whether you're young or old, and the system adjusts the messaging accordingly. If you happen to be using Kroger's Scan, Bag, Go app, it will even guide you to the next product on your list. 
Kroger and Microsoft are now testing it at stores in Monroe, Ohio, and Redmond, Wa. By providing out-of-stock data, helping associates fulfill online orders faster and creating revenue-generating opportunities (by selling ads on the digital shelves), it stands to offer benefits beyond the customer experience.
For years now, savvy retailers have been operating under the correct assumption that the old one-or-zero distinction between bricks-and-mortar and online shopping is collapsing. This insight is reshaping their whole approach to the marketing and design of store brands, especially those targeted toward millennials.
As a result, major national retailers and grocers are increasingly supporting their store brands with messaging on the likes of Facebook, Instagram and YouTube, often with the help of popular influencers with millions of followers. In some cases, millennials are now seeing these brands online, responding to them and placing orders — even in markets that lack any bricks-and-mortar operations for these retailers.
For today's store brands, the strategic imperatives hinge on competing, not just with national brands at shelf, but also with the likes of Birchbox, Brandless and Amazon. You need to understand how dynamic digital displays, and maybe even augmented reality, will affect the priority list for the package. The rules for store brands are changing fast. Digital activation is the new frontier. Retailers and designers need to raise their games.
Todd Maute, a partner at CBX, a brand agency and retail consultancy,
can be reached at [email protected]