Deflation changing the retail meat purchase, says 'Power of Meat'
Get great content like this right in your inbox.
Subscribe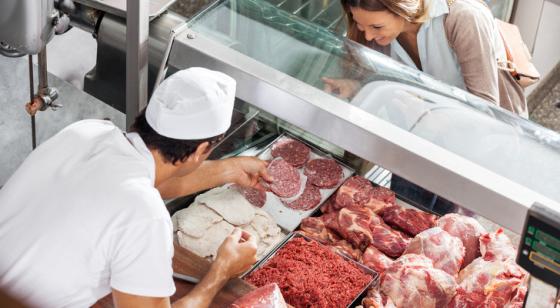 After years of increasing prices in a volume-challenged marketplace, deflation is profoundly changing the meat purchase yet again. The Food Marketing Institute (FMI) and the North American Meat Institute (NAMI) last week released their annual consumer trends analysis of the retail meat department, which found that price relief is driving a greater willingness for experimentation and premium product purchases among consumers.
In its 12th year, the study demonstrates how thoughtful curation of the meat case tailored to shopper needs, trends and innovation can influence incremental sales and provide the industry with opportunities to foster high levels of satisfaction and drive spending and loyalty. Titled "Power of Meat," the study found, for instance, that selling meat as part of a total meal solution in ready-to-prepare meal kits drew consumer interest and has the potential to yield increased sales.
"It is important for food retailers to help their customers shop smarter, and no department is better positioned to do this in 2017 than the meat department," Rick Stein, FMI's vice president of fresh foods, said in a press release. "The research shows how consumers clearly understand the nutritional and flavor benefits of protein and are eating more proteins in various forms – with overall volume up."
Made possible by Sealed Air's Food Care Division, the study emphasizes how food retailers and suppliers should continue to help tell a story about the meat purchase, paying particular attention to the product's attributes such as ingredient and production practices.
"It is clear that consumers are seeking more information and transparency about their meat and poultry products and the industry is hearing that message," said NAMI President and CEO Barry Carpenter in the release. "From our Glass Walls videos showing how animals are handled in our plants to the new MyMeatUp app, which includes a full guide to beef, pork, lamb and veal cuts available at retail, consumers have more resources at their fingertips to help them purchase the meat and poultry products they seek."
In addition, value-added meat and poultry saw robust volume increases. Better communication by retailers about the grade, handling practices, prices and convenience of these products may help accelerate further growth, according to the study.
While 62 percent of consumers still choose the supermarket to make a meat and poultry purchase, alternative channels are garnering momentum. In particular, among the 24 percent of shoppers who switch from traditional channels, consumers increasingly choose butcher stores (77 percent), farmers' markets (7 percent) and specialty/organic retailers (8 percent), the report stated. Notably, for the first time in 12 years, shoppers who have bought natural/organic (48 percent) exceeded those who have not (41 percent). Just a decade ago, that gap was 50 percentage points.