A cut above
Get great content like this right in your inbox.
Subscribe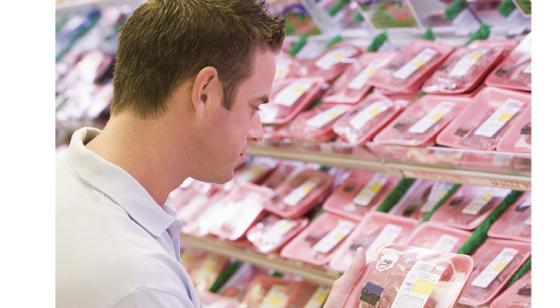 The meat packing and processing industry has long prided itself on efficiency: "We use everything but the oink" and "We use everything but the moo" were traditional refrains. But consumers today care more about producers' refraining from using hormones and antibiotics. And they expect processed meat and poultry to be clean label and free from artificial preservatives.
"There is a continued trend toward natural and minimally processed products," notes Jami Edgington, brand manager for Cincinnati-based SugarCreek, which manufactures a variety of private label meat and poultry items.
"Consumers are eating healthier and want natural products," adds John Kreilich, founder and CEO of Ste. Genevieve, Mo.-headquartered Naked Bacon, which makes sugar-free bacon in three flavors: Standard, Chipotle and Jalapeño.
Millennials' impact 
A $48 billion category, fresh meat and poultry boasts 96.1 percent household penetration and remains a leading determinant of where consumers shop for food, according to the 2017 edition of "The Power of Meat," a report published annually by the Food Marketing Institute (FMI) and the North American Meat Institute (NAMI). Historically, price per pound has had the greatest impact on the purchase decision, but "younger shoppers place greater value on preparation time and ease of use," the report states.
Indeed, millennials' preferences have begun to transform both the fresh and processed meat and poultry segments.
First, millennials tend to snack throughout the day rather than eating three 
square meals, and they are often on the go. Although meat isn't always at the center of their plates, most millennials appreciate that meat is an excellent source of protein.
"There is a great emphasis on convenience," says Dave Gerle of Battistoni Brands in Buffalo, N.Y. He notes, for example, that small slices of pepperoni used to be regarded mainly as a pizza topping. No more.
"People are buying sliced pepperoni as a snack and are using it on salads," Gerle shares. Retailers have asked the company to make single-serve packages of pepperoni for grab-and-go snacks. Consumers are also requesting packaging that is easier to open and close, he says.
Fully cooked bacon, which is growing in popularity, is another example of a convenient ready-to-eat or heat-and-eat meat product. "Our fully cooked Turkey Bacon is shelf-stable and ready in just three seconds in the microwave," points out Ron Godshall, chief operating officer of Godshall's Quality Meats in Telford, Pa.
To enhance convenience for consumers and retailers alike, SugarCreek more than a year ago added large-scale sous-vide capabilities. The French word for "under vacuum," sous-vide is a technology popular in Europe that involves placing meat sealed in airtight plastic bags into a temperature-controlled water bath for considerably longer-than-usual cooking times.
Sous-vide products are not shelf-stable but can be stored for three to four weeks in a refrigerator, according to the USDA.
"At retail, we are using sous-vide in the development of private label products that meet unique challenges for back-of-house deli operations," Edgington says. The advantages include improved product consistency and food safety, labor savings and reduced shrink, she emphasizes.
SugarCreek also manufactures private brand "packaged proteins" for consumers using the sous-vide process — products that are quick and easy to prepare, according to Edgington.
Millennials also like to try new ethnic-inspired flavors as well as unusual combinations of familiar ingredients.
Springdale, Ark.-based Tyson Foods, for one, recently started making private brand Chipotle Seasoned Boneless Chicken Thighs for Walmart.
Godshall's, in turn, produces its new fully cooked and sliced All Natural Turkey Breast in five intriguing flavors: Cuban Spice, Peppercorn Honey, BBQ Seasoning, Maple Apple Cinnamon and Cranberry.
More and more consumers have a "really adventurous palate," Godshall explains. This has prompted the company to experiment with unique blends of sweet and savory and exotic new spices.
"There's more room to appeal, more interest in finding new favorites," Godshall notes. "We're excited to present combinations like Mango Sriracha, Teriyaki Pineapple and Bulgogi (Korean BBQ)."
SugarCreek is encouraged by consumers' ongoing craving for protein and growing enthusiasm for trying new cuisines.
"Millennials, along with the general population, are demanding products that satisfy a more sophisticated palate," Edgington says. "It is evident everywhere you look — the increased interest in food — from the diversity we see in restaurants to the proliferation of information and attention food receives in print, online and broadcast media."
Clean bill of health
Although interest in health and wellness spans all generations, millennials are particularly concerned about what they perceive to be harmful chemicals in food. The nitrites and nitrates in processed meat count among this generation's most-feared preservatives.
Responding to these concerns, Battistoni Brands has expanded its line of organic Italian meats, which do not include artificial flavors, colors, monosodium glutamate or gluten, Gerle says. Demand has also increased for the company's uncured beef pepperoni, which contains no added nitrites or nitrates, he notes.
Godshall's, which manufactures mostly turkey bacon products, has fielded a surge in inquiries about clean label items.
"On the clean label side, we see a broad demand for all-natural and uncured [products], meaning no nitrites or nitrates except those naturally occurring in sea salt and celery powder," Godshall says. 
Beef up merchandising
It's important to creatively merchandise innovative and value-added meat and poultry products, Godshall maintains. Bacon, in particular, is a segment that is soaring in sales and inventiveness, he says.
"Make way for new ways to present and display the next generation of bacon," Godshall advises. "Fully cooked, shelf-stable bacon may not be familiar to every consumer. Putting it in [the] refrigerated [case] may not help to convey that this is a shelf-stable product, one of its bigger selling points."
Cross-merchandising and plenty of signage should be used to indicate that products are clean label, free of added nitrates and nitrites, and featuring any other health- or sustainability-related characteristics.
When product is locally produced or organic, the packaging and display should tell a story to engage consumers, Gerle recommends.
Kreilich believes meat processors and retailers need to inject some charisma and whimsy in their packaging and displays, which is what Naked Bacon is trying to do. "Meat traditionally has been considered a commodity," he says. "When you look at our branding and you look at our logo and our marketing, Naked Bacon comes across as a fun, inspirational brand."
"The Power of Meat" suggests that retailers capitalize on the allure of meal kits when merchandising meat and poultry. Recipes and the components of a delicious meal should be placed near portion-controlled cuts of meat.
"Meal kits and meal solutions surrounding meat/poultry, and featured in the meat department, may also be a good way for retailers to win back or create new meal occasions," the FMI-NAMI report states. "Offering grab-and-go, ready-to-prepare dinner solutions featuring fresh meat/poultry draws interest."