Catania Oils launches Fresh Harvest olive oil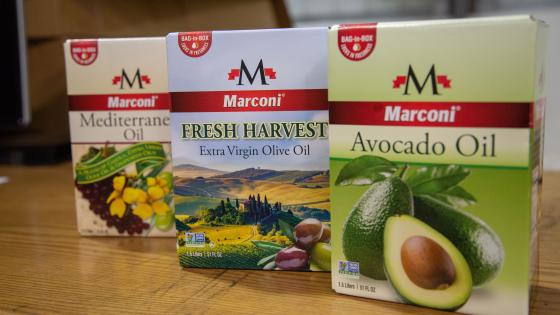 Ayer, Mass.-based Catania Oils, a processor and packer of edible oils including olive, vegetable, blended and specialty oils, has introduced Marconi Fresh Harvest Bag-In-Box Extra Virgin Olive Oil.
Earlier this year, Catania Oils launched its bag-in-box concept. Widely used in the alcohol and spirits industry particularly among wines, bag-in-box is beginning to make traction in the food industry, according to Catania.
One of the most important qualities of olive oil is its freshness. The longer olives are left on the tree, the weaker the flavor profile becomes, Catania noted. Once harvested, pressed and bottled, olive oil flavor flattens out within six months. That means the oil may have been already losing its flavor long before it's picked up off a shelf.
The team behind Marconi's Fresh Harvest sources its olives six months of the year from the Northern Hemisphere and six months from the Southern Hemisphere. This ensures the truest flavor profile, according to Catania. When combined with the company's new bag-in-box packaging, the olive oil retains that pressed-in freshness even longer. 
The box blocks harmful light from hitting the product directly, preserving the flavor and integrity of the oil; and the sealed bag helps retain the oil's freshness by keeping air away from the product, according to the company. Both the bag and box are recyclable and easily disposed of for less environmental waste.
"When we travel the world to source our olive oil, we're actually setting foot in the olive grove," Catania Oils' Senior Vice President of Retail Mark Coleman notes. "We're touching the olive, looking at its color, looking for ripeness, and Fresh Harvest is harvested at the very beginning stages. We're proud to introduce such quality olive oil to the retail market and into our customers' everyday cooking."
Catania said Marconi Fresh Harvest and its packaging will continue to deliver on the company's brand promise, "Authenticity in Every Drop".
The Marconi Extra Virgin Olive Oil Bag-In-Box is currently offered in a 1.5-liter retail size. In addition to the olive oil, Catania is offering two other varieties, avocado oil, and a Mediterranean blend.