Billion-dollar organic and free-from brands
Get great content like this right in your inbox.
Subscribe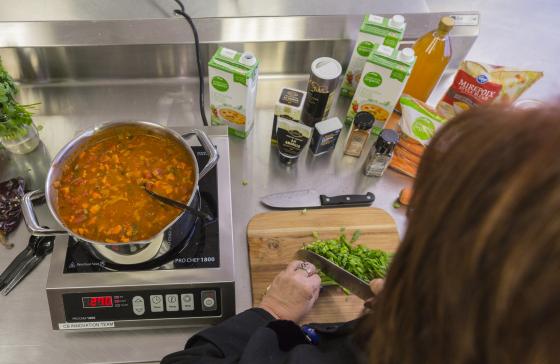 Several grocery retailers are having tremendous success with private brand natural, free-from and organic lines. Cincinnati-based The Kroger Co. is at the top of the list.
Last week, when Kroger announced its first-quarter earnings, Chairman and CEO Rodney McMullen singled out the retailer's Simple Truth and Simple Truth Organic lines, which offer more than 1,400 free-from and organic products across multiple categories, as achieving double-digit growth in leading Kroger's 5.1 percent sales growth and 3.4 percent unit growth for its overall private brand program, called Our Brands, in the first quarter. Incidentally, it was the highest-ever dollar share in the history of Kroger's Our Brands, which made up 28.7 percent of unit sales and 26.7 percent of sales dollars in the first quarter.
Introduced in 2012 with about 250 products, Simple Truth and Simple Truth Organic recently achieved $2 billion in annual sales.
Kroger didn't just roll out the lines to jump on the free-from ingredient and organic bandwagon. Listening to its customers, Kroger addressed concerns about free-from and organic products, beginning with price.
"There's a general belief in the marketplace that organic means more expensive," said Mary Ellen Adcock, Kroger's vice president of natural foods at the time (she is now group vice president of retail operations), in a press release announcing Simple Truth and Simple Truth Organic in 2012. "While organic products are available in most conventional grocery stores, our customers told us that labels can be confusing. We understand these challenges, so we're offering our shoppers the Simple Truth Organic brand, an easy, more clearly labeled and affordable way to buy organic products."
"Here's Simple Truth in a nutshell: natural and organic foods that are affordable," Gil Phipps, Kroger's vice president of Our Brands, told Store Brands earlier this year.
The success of Simple Truth and Simple Truth Organic has impressed Carl Jorgensen, director of global thought leadership/wellness for Stamford, Conn.-based Daymon, a provider of retail strategies and services to help retailers grow their private brands. Jorgensen Simple Truth the most successful private brand launch in the history of the grocery industry.
"The success of Simple Truth and Kroger's other private brand programs is a testament to the fact that Kroger is thinking in a new way about private brands and treating them as actual brands," Jorgensen said..
Albertsons Cos.' O Organics own brand is also worth a billion bucks. The Boise, Idaho-based retailer announced recently that the brand — one of the nation's largest of USDA-certified organic products — had reached $1 billion in sales.
"Everyone should have the opportunity to go organic — whether you are selectively choosing a few organic products or you have fully embraced eating organics," said Geoff White, president of Albertsons' own brands, in a news release. "That's why we offer such a wide assortment of O Organics products, from fresh fruits and vegetables to wholesome dairy and meats, cereals, snacks and more. We are honored that customers love our O Organics and have made it not only the top-selling organic brand in our stores, but also a $1 billion brand."
O Organics features more than 1,000 products. In the past year, O Organics added about 200 new products and grew sales more than 15 percent. In 2018, the company expects to introduce 500 or more new products under the O Organics line, from produce, dairy and meats, to deli, snacks and baby items.
Ahold Delhaize USA reports that it will also soon achieve a $1 billion private brand in the free-from and organic sector. Ahold Delhaize USA, created on Jan. 1 from the merger of Ahold USA and Delhaize America, operates Stop & Shop, Giant Food, Giant/Martin's, Food Lion, Hannaford and Peapod.
Ahold Delhaize USA's Nature's Promise, a line of USDA-certified organic and free-from products that Giant Food, Giant/Martin's and Stop & Shop introduced in 2004, will soon be available at all Ahold Delhaize USA's stores, and will replace the Nature's Place store brand in Hannaford and Food Lion. Nature's Promise began with 500 SKUs; it is now at 1,400 SKUs and still growing.
"As the transition completes, the brand will exceed $1 billion in annual sales," says Juan De Paoli, senior vice president of private brands for Ahold Delhaize USA's Retail Business Services, who services the company's private brands.