Beyond Meat is winning over meat eaters
Get great content like this right in your inbox.
Subscribe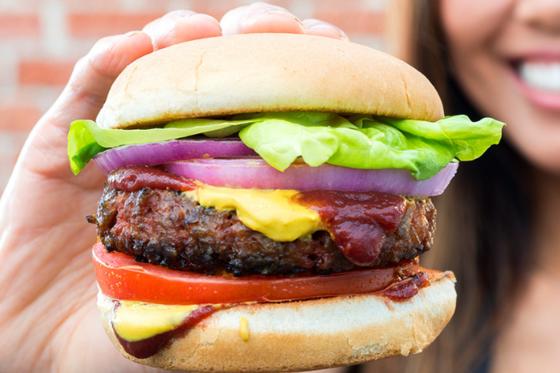 In 2018, U.S. consumers ate roughly 13 billion burgers, according to data from consumer trends market research company NPD Group. And burgers are consistently one of the most popular items on menus across the country.
But meatless patties continues to gain in popularity, as Forbes reports that 70 percent of the world population is either reducing meat consumption or leaving meat off the table altogether.
Beyond Meat, a producer of plant-based meat substitutes, is making headway toward becoming a big part of the meatless shift that consumers are demanding.
"The burger is something people love," Ethan Brown, founder of Beyond Meat, tells CNBC Make It. "And so we went after that core part of the American diet.
The El Segundo, Calif.-based company has famous investors like Bill Gates, Leonardo DiCaprio and even former McDonald's CEO Don Thompson and America's largest meat processor, Tyson Foods.
And since its debut at Whole Foods Market in May 2016, Beyond Burger patties have made their way into tens of thousands of supermarkets (from The Kroger Co. and Safeway to Whole Foods), restaurants (from TGI Friday to Carl's Jr.), hotels (The Ritz Carlton, Hong Kong) and even sports stadiums (Yankee Stadium).
Beyond Meat says it has sold 25 million Beyond Burgers worldwide. The company recently filed for an IPO and is reportedly worth more than a half-billion dollars.
Brown says the company found that 93 percent of consumers who shop conventional grocery stores and are buying Beyond Meat products are also putting animal meat in their baskets. "So they're buying not only plant-based meat, but they're buying animal meat, and that's a really important breakthrough for us," Brown tells CNBC Make It.
The company grew from a $4.8 million valuation in 2011 to $550 million in November 2017, when it closed its latest ($55 million) round of funding, according to private market data company PitchBook. In addition to Gates, DiCaprio and Tyson, notable investors include Twitter co-founders Biz Stone and Evan Williams, Honest Tea founder Seth Goldman, venture capital firm Kleiner Perkins and the Humane Society of the United States.
To read CNBC's Make It article, click here.