09/28/2018
And the winners of PLMA's 2018 Salute to Excellence Awards are ...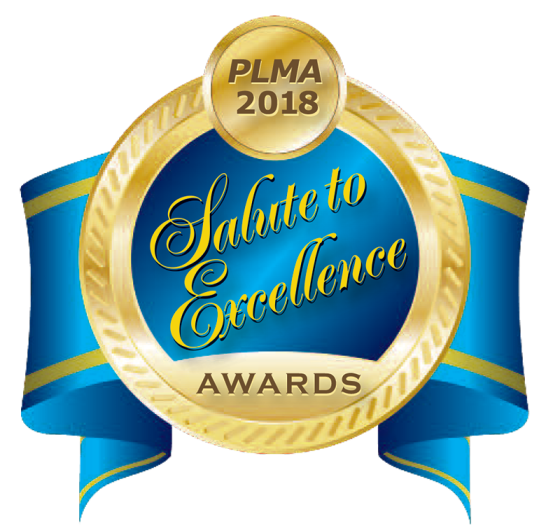 Innovation ruled at the Private Label Manufacturing Association's (PLMA) 2018 Salute to Excellence Awards program. In this year's competition, more than 500 new private brand food and non-food products were evaluated by panels of industry professionals and consumers. Judges selected 53 products — 38 food and 15 non-food items, for Salute to Excellence Awards.
In a press release citing the winners, PLMA stated, "Gone are the days when supermarkets offered only commodity products that imitated national brands." Indeed. Innovation abounds in private brands today like it has never before.
"What is really amazing is how good retailers have become in spotting trends and developing new products," said PLMA President Brian Sharoff in a press release. "Ten years ago, all you heard were complaints from national brands about how private label was nothing more than copycats. Now it is the retailers and their store brands' suppliers who are pioneering and leading the way."
The products were evaluated by panels of industry professionals and consumers. I was fortunate to be part of the panel that judged a few categories last June in New York. It's clear that retailers of all sorts, from supermarkets to club stores to convenience stores, are striving to develop and offer exclusive products. And they are succeeding.
In the grocery segment of PLMA's competition, PLMA cited the unusual but winning flavor combinations of some products, such as Metro's Irresistibles Green Tea and White Chocolaty Ice Cream Bar and Albertsons Signature Select Chipotle Craft Beer BBQ Sauce. Others reflect the latest consumer trends, such as Aldi's Earth Grown Quinoa Crunch Veggie Burger, Sobey's Compliments Naturally Simple Ancient Grain Steel Cut Oatmeal, Walmart's Great Value Ciabatta Pizza Crusts, and 7-Eleven's 7-Select Go! Smart Clean & Green Cold Pressed Organic Juice.
PLMA said retailers also introduced innovative products that have international flair, such as Earth Fare's Himalayan Pink Salt Kettle Chips. And some offer distinctive ingredients, including Wegmans for Pasilla Pepper Adobo Bold Roasted Chili Paste. Products sourced at origin were winners, too, like Kroger's HemisFares Cornicabra Extra Virgin Olive Oil, Wakefern's Shop Rite Trading Company Imported Artichoke Hearts from Peru and Lidl's Preferred Selection British Vintage Cheddar Cheese.
Non-food award winners also feature unusual ingredients, such as Trader Joe's Cucumber Avocado Body Butter and Lavender Tea Tree Scent Liquid Dish Soap, while Thrive Market was recognized for its Coconut Sunscreen Lip Balm, Liquid Lavender Laundry Detergent and Bamboo+Recycled Bath Tissue. In the personal care and wellness category, Walgreens won with its C.Y.O Eyeshadow Palette Rainbow Warrior Colors. Among the health care winners was CVS Health's Pro Strength Kinesiology Tape.
Retailers and wholesalers across the U.S., Canada and Latin America were asked to submit their new store brands products for consideration. The products were reviewed for innovation based on trends in the category, the markets in which the retailer operates and what competitors were offering, according to PLMA In addition to innovation and product concept, products were also judged for taste, texture and smell, packaging and presentation, and value for money.
All the winning products will be on display at PLMA's 2018 Private Label Trade Show November 11-13 at the Rosemont Convention Center near Chicago. The event is the largest private label exhibition in North America and will attract more than 11,000 attendees, including buyers, visitors and exhibitor personnel.