Aldi intends to expand to 2,500 U.S. stores by 2022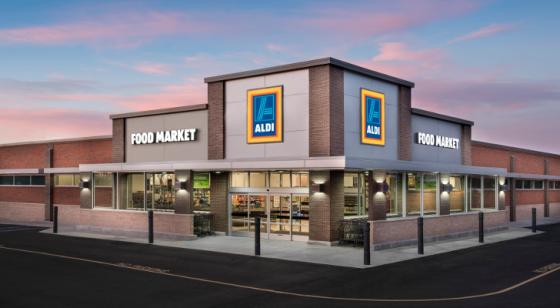 With Lidl opening its first U.S. stores this week, Batavia, Ill.-based Aldi U.S. says it will add 900 new stores during the next five years. Aldi's announcement comes at the beginning of the week when German rival Lidl will open the first of its 100 U.S. stores — in North Carolina, South Carolina and Virginia.
Already in the midst of a $1.6 billion renovation initiative that aims to bolster the chain's fresh food choices and other product assortments, Aldi said yesterday that it will invest $3.4 billion to increase its store count from 1,600 to 2,500 by 2022. At that number of stores, Aldi will be the third-largest food retailer in the United States behind Wal-Mart and The Kroger Co.
Aldi is known for its store brands, including Fit & Active and liveGfree. According to a report from Bain & Co., a management consulting firm, the deep discount stores in the United States are expected to grow by 8 percent to 10 percent annually through 2020.
"This torrid pace of growth is fueled by discounter store economics that quickly generate cash to reinvest into both store expansion and remodeling programs that attract new customers," the study stated.
Mikey Vu, a partner with Bain's Retail practice, said incumbent grocers can stay ahead of the shifting retail landscape by "No. 1, use your private label" and turn it into a brand that consumers can only get in your store. "No. 2, invest in fresh foods."