Aim for simple and healthful
Get great content like this right in your inbox.
Subscribe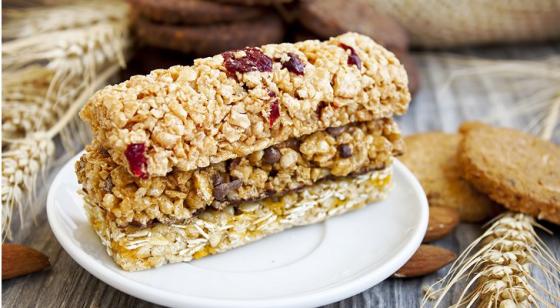 With so many time-rushed shoppers eating on the go, virtually nothing beats the convenience of hand-friendly, ready-to-eat nutrition or snack bars — and sales of them reflect that reality. According to "Snack, Nutrition and Protein Bars — US," a March 2015 report from global market research firm Mintel, bar sales grew by almost a third from 2009 to 2014 and reached more than $6 billion; sales are expected to hit $6.8 billion by 2019. The report notes, however, that the category is facing increased competition from other snack foods, meaning that retailers need to "raise the bar" in offerings for the category.
"Competing with trends in the private label space is important for the brand to stay relevant," says Brianne Arnott, brand manager for Markham, Ontario-based Taste of Nature Foods Inc., which produces a variety of organic snack bars.
Strive for simplicity
One important trend is cleaner ingredient decks. While consumers might want the convenience of a snack or nutrition bar, they also want that bar to be made with "real food" and not fillers.
"We are seeing many brands claim healthy, whole ingredients, simple ingredient decks, etc.," Arnott says. "The simplified nutrition deck seems to stand out most, where brands are reducing the number of ingredients, chemicals and preservatives they once used, to offer the consumer a seemingly healthier product."
She points to the increasing popularity of bars that combine fruit, nuts and seeds — ingredients consumers actually can see.
Offer ingredients with benefits
With shoppers increasingly interested in foods that have not only cleaner labels, but also health claims, retailers should consider offering store brand bars with health benefits. Probiotics, which help support digestive health, are showing up more often in nutrition and snack bars, for example.
"Snack products that offer a health benefit give them an instant edge in this evolving market, and adding probiotics in the snack category has grown immensely in popularity," says Mike Bush, senior vice president with Mayfield Heights, Ohio-based Ganeden, which manufactures GanedenBC, a probiotic strain for foods and beverages. "Consumers are looking for convenient, lifestyle-friendly products that provide the opportunity to get desired health benefits without taking another pill."
Bush points out that in a recent Ganeden consumer survey, 38 percent of respondents who said they did not regularly purchase snacks also said they would be more likely to buy a nutrition bar if it contained a probiotic.
While it might not be as new as the probiotic trend, protein also remains a strong sales driver in the bar market.
"Although protein has been a hot topic for some time now, we are seeing more and more brands jump on the bandwagon touting their protein content on pack," Arnott says.
In line with consumers' desire for protein, more bar brands are offering varieties that contain meat. Austin, Texas-based Epic sells a number of such bars, and Hershey, Pa.-based Hershey is reportedly set to launch a line of Krave protein bars this August that will feature dried meat and other health-minded ingredients.
"Savory bars are a great trend because by definition, they don't need to be as sweet, and thus it is more acceptable to use less sugar," says Aram Karapetian, vice president of sales and marketing for Waukegan, Ill.-based Woodland Foods, an ingredients supplier for retail and foodservice. "Meanwhile, one can easily hit the other trends by adding puffed or crisped grains and protein supplements and marketing them as meal replacements."
Focus on flavor
Just as crucial as having the right format and ingredients is having the right flavors. Shoppers are looking for varieties that excite them.
According to the recent "Bars," a 2015 Category Insight report from Geneva, Ill.- based flavor company FONA International, coconut was clearly the top flavor in terms of sales growth from 2009 to 2014, with the category seeing a 525 percent increase in the number of coconut-flavored products. Other top popular flavors include chocolate, peanut butter and almond.
But shoppers are interested in more unusual flavors, too.
"Savory inclusions and flavor profiles, specifically chilies and spices," are trending right now, Karapetian notes.
He suggests that retailers consider including "iconic flavors from culinary traditions around the world," pointing to flavors such as gochujang, truffle, Sriracha, Baharat, mole, shichimi togarashi, green/red and yellow curries, roasted spices and smoked paprika.
When introducing bars with more exotic trending flavors, however, Karapetian advises connecting them to familiar concepts.
"Offer a twist on the familiar," he says. "If you produce a gochujang-flavored bar, you'd call it a honey almond gochujang bar. In that way, you are demystifying gochujang to some extent but still providing a unique experience."
Market your bars
The right marketing is important, too, in this category. And in-store product placement can be a big part of marketing efforts.
"Store placement and box size are areas that could be improved," Arnott points out. "While fruit, nut and seed bars are often found in natural food sections within the store, or even granola bar sections, there is a real opportunity at checkout for impulse shopping that store brands may not be taking full advantage of."
According to Arnott, claims on the package that can entice consumers to go for the store brand bar include "gluten-free," "peanut-free," "low sugar," "high source of protein" and "high source of fiber."
Retailers might also want to think about how their store brand bars stack up as a substitute for a meal.
"People are busy and want solutions for making their lives more efficient," Karapetian says. "By using ingredients that allow for making a larger bar and promoting the product as being a great choice for 'lunch on the go,' consumers are more likely to buy the product as a daily staple rather than a treat," he says, noting other effective bar claims include "vegan" and "non-GMO."
Retailers also shouldn't forget about the power of a demo.
"There isn't generally a lot of in-store sampling done by private label brands," Arnott points out. "Often bars are bought as a routine; consumers might shop between brands, picking up the same items over and over."
Do consider the trend toward cleaner ingredient statements.
Don't forget that health claims matter to many consumers.
Do consider "exotic" ingredients, but pair them with familiar ones.
Don't discount the power of at-checkout placement to spur impulse purchases.