Adventureland
Get great content like this right in your inbox.
Subscribe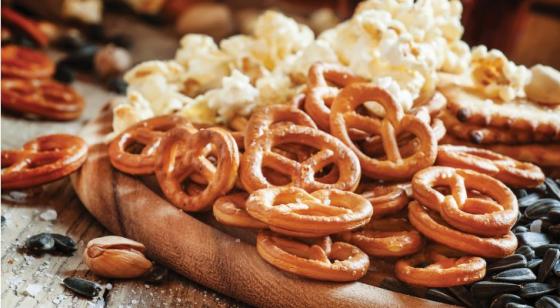 The numbers are in for the salty snacks category. They are good and are expected to get even better. In fact, if an election were to be held today, salty snacks would be throwing confetti and cheering.
With strong and steady growth across its subcategories, salty snacks saw 29 percent sales growth from 2010 to 2015 to reach $10.2 billion, according to "Salty Snacks — US," an April report from global market research firm Mintel. Mintel predicts sales will grow another 22 percent from 2015 to 2020 to reach $12.4 billion at current prices.
Not surprisingly, subcategories benefiting from strong innovation and positive health perceptions such as popcorn and meat snacks are driving growth, Mintel reports.
The strongest influences in salty snack purchases are a new flavor (38 percent), resealable packaging (32 percent), a spicy flavor (30 percent), a variety pack (27 percent), a limited-edition/seasonal flavor (22 percent) and single-serve packaging (22 percent), according to a Lightspeed GMI/Mintel survey of 2,000 adult Internet users.
Health, heat, spice
Better-for-you trends in this category focus on healthier grains (including ancient grains), vegetable and fruit bases, observes Jamie Smith, food scientist for Wixon Inc., a St. Francis, Wis.-based manufacturer of seasonings, flavors, ingredients and consumer products for the food and beverage industries.
"Dried meat snacks, snack bars and pre-made/seasoned popcorn are also doing very well. Non-GMO, organic and 'free-from' labels all continue to be popular options," Smith adds.
Convenience and clean panels are two significant trends driving the category, says Scott Carpenter, president and CEO of Reading, Pa.-based Savor Street Foods Inc. Savor Street is a century-old maker of artisan better-for-you snacks, including ready-to-eat (RTE) air-popped seasoned popcorn and gluten-free pretzels.
A continually growing focus on health, wellness and awareness of what they are ingesting on consumers' part will influence emerging product trends, Smith says. Energy, fiber, protein and other added nutritional benefits will be in the offing.
"This is related to the clean label' trend that's becoming a table stake for consumers," she adds.
More snack bases will be derived from nuts, fruit and vegetables to help consumers achieve their goal to eat "cleaner," predicts AnnMarie Kraszewski, Wixon's R&D lab manager.
Eric Thier, founder and president of Denver-based Oogie's Snacks LLC, believes the category is becoming less salty overall. Newer flavors and seasonings could reduce the need to add as much salt to products, he explains.
As far as flavors go, they are trending toward hot and spicy ethnic cuisines such as Cuban and North African, Smith says.
Seasoning trends for salty snacks continue to move toward more ethnic and out-of-the-box profiles and combinations, Kraszewski agrees. Unique flavors such as mint julep and gochugaru (Korean red chili pepper) allow products to stand out among their competition, she adds.
Thier also sees a strong trend toward savory ethnic flavors. Consumer tastes are becoming more adventurous and global, and "heat is huge," he adds.
"What we had that was (considered) spicy in 2005 is not considered too hot anymore," he says. "Ghost pepper, Sriracha — heat is not going away"
Thier founded his company in 2005 (naming it after his college roommate) "because I couldn't find the snacks I wanted." The manufacturer of individual-batch bagged RTD gourmet popcorn and seasonings recognized the public's growing hunger for natural and healthy foods. Oogie's uses non-GMO ingredients and eschews artificial flavors and colors.
"The trend for years now has been healthy lighter and more adventurous, with more interesting flavors," Thier says. "Popcorn is a great mechanism for different flavor profiles," he adds.
RTE popcorn "remains the darling of the salty snack segment, with MULO- (multi-outlet-) tracked sales climbing 12.8 percent in 2015," according to "Salty Snacks in the U.S.," a March report from the Packaged Facts division of Rockville, Md.-based MarketResearch.com.
Portion control
Keeping indulgence in check is important to consumers, notes Kim Cornelius, senior food scientist for Wixon, adding that consumers are more aware of their intake and also more aware of the nutritional value of snacks.
"Individual-serving-size packaging makes it easy for consumers to grab and go with a snack, [and] a small and compact size [aids] the consumer. This also keeps in check the amount the consumer eats to prevent over-indulging. Resealable packaging seems to work in the same way," Cornelius observes, advising retailers to offer larger resealable bag options in their salty snacks product mix.
Tout benefits
Don't pass up the opportunity to tell consumers what's good about store brand snack products, Thier advises retailers.
"Highlight the value proposition. It's a differentiator," he says. "Showcase the value of your brand. Talk about its credibility. If it's organic, let [shoppers] see the organic certification."
Carpenter recommends that retailers follow the national brands, but have the confidence and creativity to add points of difference, whether that is with cleaner ingredients, certification or shape — something that will add value and distinguish the private brand product.
There are several ways retailers could highlight the better-for-you aspects of their snacks and thus tap into consumer interest, according to the Packaged Facts report. Popular health trends include added protein, vegetables and the so-called "superfoods" such as chia, ancient grains and avocado.
"There's no denying that even a mention of these on-trend ingredients on the package tends to capture the eye of consumers looking for healthier snacking options," Packaged Facts states.
Show them off
Getting own-brand snacks in front of consumers' eyes is a must. Locate products near the checkout or at the end of the aisles so consumers see them right away, Cornelius advises.
One merchandising option the Packaged Facts report suggests is separating different subcategories of snacks within the snack section so that shoppers can easily find the ones they want. Packaged Facts also notes that store brand popcorn and pretzels are similar in popularity to the top name brands in the category. Larger families (with three or more children) "show a clear preference for popcorn products, a likely indication of the snack's healthier-for-you reputation among new parents," the company notes.
Finally, Carpenter reminds retailers to remember that snacks are a fun category and an impulse purchase.
"Make displays fun and vary locations throughout the store with different themes," he advises.
Do consider the trend toward ethnic and spicier flavors.
Don't forget consumers' need for grab-and-go formats.
Do highlight the nutritional benefits of better-for-you own-brand snacks.
Don't forget to add some fun to salty snack merchandising efforts.