5 ways to personalize with private brands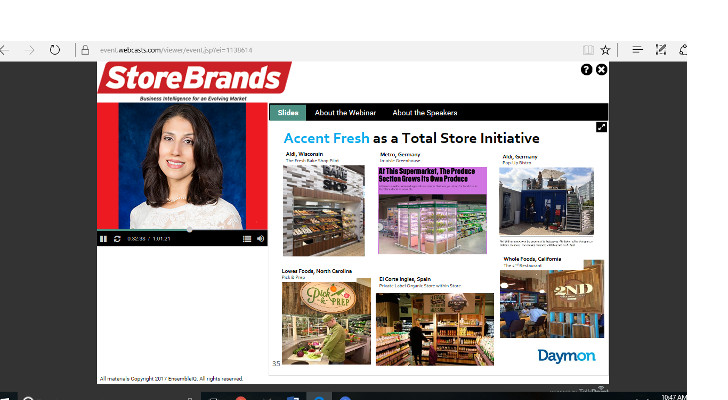 Despite the growth in e-commerce, consumers today are not rejecting physical stores. In fact, nearly six in 10 are "participatory shoppers" who shop multiple brick-and-mortar stores to find exactly what they're looking for and expect a personalized, fun, convenient and digitally enhanced experience, according to Nicole Peranick, director of global thought leadership for Daymon.
"Private brand," a term that encompasses services as well as store brand products, will play an ever-greater role in differentiating the retail experience to engage these demanding wellness- and sustainability-focused consumers, said Peranick in her June 21 presentation, "From the World: Bringing Scale to Personalization," which concluded Store Brands' four-part webinar series examining "The Power of Private Brands," a recent report by the Food Marketing Institute (FMI) Private Brand Leadership Council, IRI and Daymon. Also participating in this final webinar were Doug Baker, FMI's vice president of industry relations, and moderator Kevin Francella, brand director for Store Brands. (The entire "Power of Private Brands" webinar series is now available.)
To better understand contemporary consumer behavior, Daymon surveyed 8,500 respondents from eight countries, including both developed and developing markets. The global retail services and brand development firm uncovered "a new wave of participatory shoppers" that spans all generations, with the most engaged "vocal aficionados" being primarily GenXers and millennials.
"These shoppers seek out interaction in the retail experience," Peranick explained. "They desire inclusion and want to provide opinions, feedback and ideas to make their mark."
Peranick shared several insights into this new shopping mindset that should be of particular interest to retailers with private brands:
Co-creation is the future of retail innovation. Consumers increasingly desire to provide direct input into products and services and even to co-design new ones.
Fresh is the gateway to shopper loyalty. But this extends beyond a single department. "Fresh has taken on an expanded meaning, and solving for this new interpretation is really imperative to capture and retain customers," she stressed.
A new dimension of private brand is emerging. It's not enough for store brands to be me-too imitators of national brands. "Shoppers are giving private brands permission and even expecting them to differentiate, elevate, innovate and personalize," Peranick said.
Conversational engagement must extend outside of the store. Consumers want a two-way "feedback exchange" with retailers that often includes digital engagement.
Seamless integration with mobile is not a choice. "Beyond out-of-store connectivity, more and more shoppers are demanding a different in-store experience that's digitally enhanced for mobile," Peranick noted.
What can retailers do to attract these participatory shoppers? The answer, Peranick told her webinar audience, is "destination retailing," or incorporating differentiated experiences to drive deeper consumer engagement and increase dwell time in the store.
One way to do that in grocery retailing is "to accent fresh as a total store initiative," she said. A good example of this is Aldi's Pop-Up Bistro concept in Germany, in which shoppers can enjoy chef-prepared meals for a limited time. In addition, stores can offer "private branded fresh solutions," a section where made-to-order salads, sandwiches and other healthful meals are prepared. A few retailers are even growing their own produce in small greenhouses in the store.
 Another way to become a destination retailer is to incorporate discovery and surprise, added Peranick, noting that the new Lidl store she recently visited in Virginia Beach, Va., even has displays marked "new surprises."
"The ability to appeal to all the senses is actually a built-in advantage for brick-and-mortar retailers but harder to replicate in an online environment," she observed.
Grocery retailers with pharmacies can use what Daymon calls "precision wellness" to attract and keep customers. By linking the pharmacy with food retailing, supermarkets and mass merchants can help consumers leverage the personal data they've gathered through fitness trackers and DNA kits to make valuable lifestyle changes.
"Since the global wellness market is expected to eclipse $1 trillion this year, we believe that there is real white space for retailers to become true wellness partners with their shoppers," Peranick said. "One way to do this is to curate wellness with more targeted solutions."
In the United Kingdom, Waitrose, for one, uses color codes to segment its store brand fit meal solutions by calorie count and nutrients. And a more futuristic example is Asda's and Tesco's partnership with DNAFit to provide diet planning based on a shopper's genetic profile.
To become a destination retailer, stores should also think about adding value through new private branded services, Peranick suggested, citing examples of European retailers that are doing this. Carrefour in Italy, for instance, has a new urban concept store that is open 24/7, includes laundry facilities, and features a handyman team that can be hired to make repairs in shoppers' homes. And in France, the hypermarket E. Leclerc has debuted a drive-thru lane that allows customers to pick up online-ordered products and ready-to-eat meals without leaving their cars.  
"Private brand is truly well-positioned to serve as a competitive advantage to retailers," Peranick emphasized. To leverage this advantage, stores must move beyond "me-too emulation" and toward "made-for-me differentiation," which requires a solutions-based approach, she said.
Private brands, moreover, are better-positioned to address local needs and tastes than national brands are, Peranick noted. "Opportunity really exists to connect private brand more deeply to local and cultural roots through new products, services and engagement both in and out of the store," she said.
Ultimately, as Peranick put it, the goal is to "drive traffic and develop that cult-like following, thanks to private brand as your tool."