06/21/2019
In search of a bread boost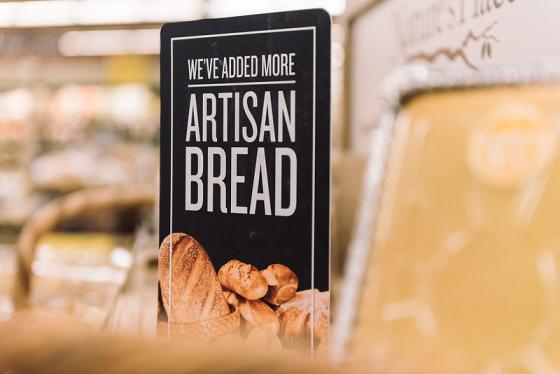 Bread is becoming a victim of its own success.
Because the product has almost universal household penetration, merchandisers are facing the steep challenge of finding ways to grow activity, and even sustain interest in light of evolving shopper attitudes.
Revenues in the $21 billion category rose just 1% from 2017 to 2018 and only 5% since 2013, states market researcher Mintel, which also forecasts slow expansion over the next five years with sales likely to increase just 5% through 2023.
Indeed, 21% of shoppers indicate that they decreased their bread consumption in 2018 compared to the previous year, while 16% had an increase in consumption, Mintel notes in its July 2018 "Packaged Bread US" report.
"The category's largest segment, fresh loaf bread, continues to be especially sluggish, suggesting that consumers are turning to alternative types of breads and/or are cutting back," Mintel notes.
More than two-thirds of the consumers who are moving away from the category cite carbohydrate reduction as a key influencer, which suggests that lighter, reduced- or low-carb options are needed to stem the attrition, Mintel states.
Yet, Mintel research also found that most consumers are not actively looking to expand consumption, and many are indicating that health benefits and other attributes would not sway them to eat more.
"This suggests that most nutritional needs are already being met or, more likely, that nutrition isn't top of mind with bread," Mintel states. "Any significant growth for the category will have to come from increased consumption of less widely and commonly used bread types. Consistent communication of everyday uses and occasions may be a spark for increasing consumption."
Merchandisers also are more likely to generate excitement and increase trial by responding to shoppers' interest in freshness and quality, and using packaging and sampling to spotlight attributes, Mintel notes.
"Brands in each segment should accentuate their different strengths, benefits and best uses as well as other advantages that consumers might not be aware of yet," Mintel reports. "Demonstration of versatility of both products and their individual strengths may encourage consumers to eat different types of bread more often for different needs."
Because most bread consumption occurs at breakfast, lunch and dinner, positioning bread for snacking or appetizing may also help to spur additional purchases.
"Bread is routine, and consumers seem to be stuck following the same practices," Mintel reports.
However, with most consumers apparently open to trying unfamiliar products, category expansion is possible.
"To grow the category in all segments, it will be essential to encourage trial of underutilized products, challenge routines and create some excitement around these seemingly mundane bread occasions," Mintel states. "Reminding consumers that it's fun to break bread."
That includes responding to shoppers' interest in breads with healthier ingredients, which have more global flavor profiles, says Gerri Krenner, director of sales and marketing for National Choice Bakery, a South St. Paul, Minn.-based bagel supplier. "Products with whole grains, sprouted and ancient grains and seeds are becoming more popular," she notes.
In addition, it's important for retailers to leverage the shelf space that will best spotlight their store brands, promote products via social media and call out desirable elements, Krenner says, which for millennials and Generation Zers include freshness and the use of grains and natural ingredients. 
"Consumers perceive private label to supply high quality and value," she states. "Retailers should tout those attributes and health claims on the front panel of attractive packages." 
Think outside the center store
The bakery departments of retail outlets, meanwhile, are improving their bread revenues, increasing 1.4% in 2018 versus a year earlier, with rolls and buns having a 1.1% gain and bagels a 5.6% increase, states the "2019 Power of Bakery" report. Bread revenues from in-store bakeries grew 1.3%, while rolls and buns had a 3.3% gain.
The "2019 Power of Bakery" is published by the Washington, D.C.-based American Bakers Association and the Arlington, Va.-based Food Marketing Institute. Research was conducted by San Antonio-based 210 Analytics LLC and Cincinnati-based Todd Hale LLC. 
Because consumers are increasingly looking to experiment with new items, flavors, ingredients, brands and ethnic selections, retailers can benefit by providing samples of novel offerings while leveraging eye-catching displays, states Anne-Marie Roerink, a 210 Analytics principal.
Indeed, she notes that bakeries are experiencing big growth with "small sellers," including croissants and artisan breads, while bagels, specialty rolls, corn bread and naan bread are among the fast-growing items that retailers produce in-store.
"Success lies with staying on top of consumer trends and wants regarding item types, attributes and ingredients," Roerink says. "This means frequent and constant innovation, which isn't always easy for store brands."
Retailers, she states, can effectively support store brands by cross-merchandising private label bread selections with other items in the store to drive trial, developing a consistent private label look for bakery products, and responding to shopper interest in health and transparency.
About 75% of shoppers look for specific ingredients and seek certain nutritional callouts when buying functional items from the bakery, including bread, rolls and buns, the "2019 Power of Bakery" states.
"Big wants are whole grains and multi-grains, which are driven by baby boomers, and the absence of artificial ingredients in breads, which is millennial-driven," Roerink notes.
Indeed, the shift in consumer preferences
toward premium selections is narrowing the market for conventional bread products, states John Madigan, lead industry research analyst with market researcher IBISWorld Inc., in the company's December "2018 Bread Production in the US" report.
"In order to attract health-conscious consumers, some operators have introduced alternatives that are more nutritious, while others have extended their product offerings to include premium, specialty varieties," he notes.