Meat of the matter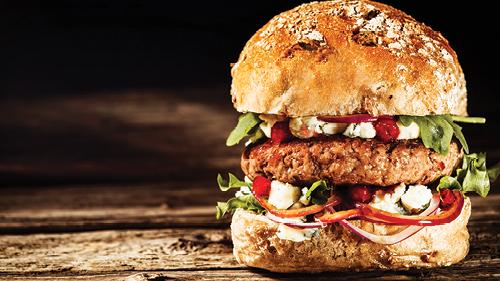 Sales of meat substitutes and plant-based products are soaring — but you would never know it from a visit to the meat department of Whole Foods Market, a major purveyor of vegan foods.
On a recent Saturday in December in Tampa, Fla., scores of shoppers at Whole Foods could be seen "oohing" and "ahhing" over prepackaged chimichurri-marinated chicken breasts and Tex-Mex spiced organic beef burgers. Taking a closer look revealed a cooler packed with a variety of case-ready premium meats, organic and conventional, all of which had the 365 Everyday Value Products brand on the label.
While it's true that consumers are craving more plant-based foods for their health and a desire to help the environment, not everyone wants to go vegetarian or vegan. In fact, Americans still love their red meat: American consumption of red meat and poultry per capita was forecast to hit 222.2 pounds per person in 2018, up from 216.9 pounds in 2017 and 210.2 pounds in 1998, according to the U.S. Department of Agriculture. That's the highest amount of meat consumption within the last 50 years. 
The popularity of animal-based protein and protein-heavy diets are prompting many retailers, including Whole Foods, to up their case-ready meat game. And case-ready meats, especially in the private brand arena, have emerged as a strong growth area for retailers in recent years.
According to Information Resources Inc. (IRI), sales of private brand refrigerated uncooked meats (not including poultry) soared nearly 27.7 percent in sales during the 52-week period ended Dec. 2, 2018, with sales reaching $3.9 billion. Dollar share for private brands in the category increased to a meaty 76 percent, a 19 percent improvement from the previous year. Unit sales are up nearly 24 percent. 
According to IRI's 2018 Power of Meat Report, 18 percent of shoppers are buying more fresh meat compared to last year. The report found that millennials are driving the trend, with 41 percent of millennials surveyed saying they bought more fresh meat versus the year before. Today, the meat department racks up $49.5 billion in annual sales for food retailers.
Clearly, staying on top of consumer preferences and responding to shopper needs is essential for retailers looking to drive sales in the meat aisle. That's one reason why more retailers are putting private brand refrigerated uncooked meats in the fresh section. 
"Trends are always top of mind for us, but the goal of our private label program is to provide the widest variety of premium products at the lowest prices, and ultimately give our customers an exceptional shopping experience every time they walk through our doors," says Chris Skyers, vice president of Own Brands for Keasbey, N.J.-based Wakefern Food Corp. in an interview with Store Brands about the grocer's case-ready meat strategy. "We believe our success in the private label space is a direct result of listening to our customers and staying in tune with their evolving needs and preferences. Today's customer is more adventurous and wants to try new things, including healthier options and global fare."
While the recent growth of case-ready meats is impressive, it isn't actually new. 
The case-ready meat trend began in 2001 when Walmart transitioned all of its stores and meat departments to case-ready only. Since then, case-ready meat penetration at retail has increased across all major categories, according to the 2015 National Meat Case Study. The research was conducted at 114 major supermarket chains, supercenters, club stores and small format retailers around the U.S. The scope of the research included a physical count and recording of attributes of the all the beef, pork, veal, chicken, turkey and lamb products in the meat case. According to the study:
• Sales of boneless meat products increased (not including ground meats) — from 59 percent in 2007 to 63 percent in 2010 to 67 percent in 2015.
• Store branded meat products gained significantly from 2010 to 2015 — from 36 percent to 51 percent.
• Case-ready products increased in the total meat case — from 66 percent in 2010 to 76 percent in 2015. 
And the most important trend in meats, especially in the private brand case-ready category, might be the way in which retailers are assorting to shoppers' evolving preferences.
"While many retailers have carried private-label meat, SPINS has seen strategy shift to meet evolving consumer demands, especially when it comes to transparency and clean-label attributes," said Sara Clifford, vice president of OMNI channel retail for SPINS, an analytics firm and provider of retail consumer insights. "Natural and organic products are earning their shelf space — and not just with core natural retailers. Many significant conventional retailers are incorporating these and other animal welfare attributes into their private-label meat sets, featuring label language including no added antibiotics or hormones."
As shoppers increasingly have more choices of where to buy their meats, many retailers are trying to deliver the kind of case-ready assortment that competitors can't match. A shopper visiting a Sprouts Farmers Market, a Target or a Trader Joe's will see an assortment of private brand case-ready meats that includes boneless sirloin diced pork "for stir fry," shawarma-marinated chicken thighs, and free-range, grass-fed leg of lamb. 
Retailers are maximizing their private brand case-ready assortments at a time when shoppers' perception of case-ready meat has reached its highest favorability rating yet, according to IRI's Power of Meat Report. About 80 percent of shoppers believe case-ready meat is as good or better than meat that is cut or packaged in-store. 
In addition to innovations such as exclusive cuts, clean label, organic and global-flavored marinades, retailers are also looking ahead to future trends, such as combining animal-based and plant-based proteins.
Sonic Drive-In became the first national chain restaurant to serve a blended burger made with 35 percent mushrooms. The Sonic Slinger was offered for a limited time in the spring and proved so popular it was served for a limited time again in the fall and is back as part of a new promotion, according to Scott Uehlein, Sonic's vice president of product innovation and development, who spoke to The Washington Post. 
In 2019, retailers can expect to see more consumers looking for plant and meat blends at the fresh meat case. Retailers should be merchandising to guide shoppers as they navigate all of these new products and terms. To drive even more sales in private brand case-ready meats, retailers and packers/processors should work together to enhance shopper meat knowledge and to take advantage of food trends for the best possible assortment, service and shopping experience.
"Retailers today continue to do well underscoring the value proposition of private-label meats, often merchandizing these items right next to flagship brands, making price comparisons easy for shoppers. SPINS also sees a number of retailers extending their lines past the most traditional meats (beef, pork, poultry) into offerings like bison and lamb," Clifford says.
Acosta, managing editor of Store Brands, can be reached at [email protected]