03/02/2010
Kroger and Loblaw Roll Out Retail-Ready Packaging for Store Brands (Part 1 of 2)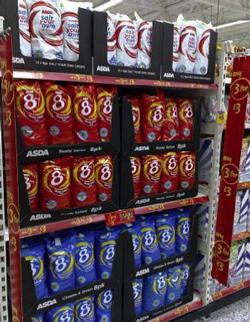 Exclusive to Store Brands Decisions
Editor's Note: This is a two-part report on retail-ready packaging for store brands, which traditional grocers such as Kroger and Loblaw are embracing to streamline operations. Part 1 discusses the roots of the emerging trend as well as manufacturer concerns about the resulting increase in product packaging costs. Part 2 focuses on the operator benefits of retail-ready packaging, as well as Kroger's and Loblaw's five pillars of execution.
An in-store example of RRP.
Call it retail-ready, shelf-ready or display-ready packaging, the cost-saving practice allows merchants to place store brand food and beverage cases on retail shelves in one motion, no longer requiring individual unit stocking.
CPG companies –– such as Lipton, McCormack and Campbell's –– pioneered the practice several years ago to give their brands and logos more shelf play and consumer exposure, especially as store brands ramped up competition. Several years ago, European retailers also implemented retail-ready packaging (RRP), which today is the norm. Now, traditional North American grocers such as Kroger and Loblaw hope to do the same with their store brands.
Warehouse clubs such as Costco, limited assortment retailers such as Aldi and discounters including Save-A-Lot also use RRP, which makes it even more difficult for traditional grocers to compete. As the retail channels continue to blur, traditional grocers such as Kroger in the U.S. and Loblaw in Canada aim to level the playing field as they increasingly compete with retail formats that have more efficient business models.
Kroger targets high-volume labor-intensive categories.
The bottom line is RRP saves grocers shelf-stocking labor and makes products easier for customers to shop and find the products they seek, according to proponents of the practice.
"A key driver for … [RRP] implementation is the reduction of expense through improved in-store efficiency, which in turn can lead to better on-shelf availability and increased sales," Kroger executives wrote in a presentation to store brand suppliers in January, a copy of which was obtained by Store Brands Decisions. "The customer is fundamental to good [RRP] solutions execution. Design elements should be kept simple so consumers can easily identify and purchase the product they want. Packaging should not send mixed messages to the customer; [RRP] that maintains brand identity aids product recognition by store associates and consumers, as well as throughout the supply chain, including distribution and in-store operations."
Aldi uses RRP throughout the store.

Loblaw executives presented a similar RRP program to store brand suppliers during its recent Loblaw Brands Innovation Summit. Both retailers outlined the benefits of their respective programs as well as their specific requirements and expectations from suppliers.
Store Brands Decisions contacted both retailers; Kroger did not respond while Loblaw declined to comment.
Suppliers Wary of Costs
While suppliers understand the costs savings to the retailer and the brand image enhancements on the shelf, they are concerned about their cost increases to comply with the programs, an anonymous industry source told Store Brands Decisions.
"The challenge going forward for a store brand manufacturer is that this is just one more customization that has to be done," he said. "Even though Kroger is quite large, it is no more than 10 to 15 percent of any good-sized manufacturer's business. So it takes efficiencies away from the manufacturer."
In fact, most of the SRP work will have to be done off the manufacturer line or products will have to be removed manually from existing packed boxes to be repacked in shelf-ready displays for specific retailers, he added.
"Even if five of the top retailers adhere to the same standards, manufacturers are still going to have to carry five different inventories of shelf trays, outer packaging and corrugate, for example, because they're all going to have their own color schemes and logos," the industry source explained. "This also makes buying of these materials more expensive for the manufacturer."
While it will vary by manufacturer and product type, RRP programs will cost suppliers 3 to 7 percent more in labor (rework and repackaging) and unique packaging inventory, the industry source estimated.
Editor's Note: Next, week Part 2 will focus on the retail benefits of RRP,  as well as Kroger's and Loblaw's five pillars of execution.